Books by BCS Women
"There is more treasure in books than in all the pirate's loot on Treasure Island." said Walt Disney. Check out these books by BCS Women.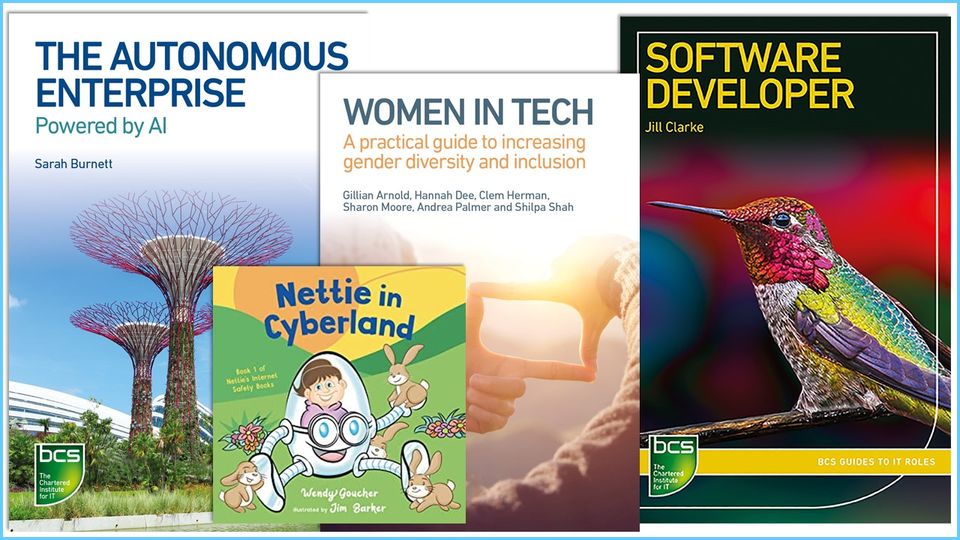 "There is more treasure in books than in all the pirate's loot on Treasure Island." said Walt Disney. Check out these books by BCS Women:
Software Developer by Jill Clarke
Software developers are responsible for producing fully functioning and secure software products, this encompasses design, programming and testing. With a growing need for software for everything from business to games to everyday items such as fridges, there is increasing demand for professional software developers. This book explains the software developer role in the context of the industry, including the relevant skills and competencies you will need to become a software developer. Discussion of popular programming languages is covered, as well as tools and techniques of the trade. Career progression tips and software developer case studies round off the book, providing you with the insider knowledge you need to kick start your software development journey.
Women in Tech: by Gillian Arnold FBCS, Hannah Dee, Clem Herman, Sharon Moore MBE, Andrea Palmer FBCS MBA, Shilpa Shah
A practical guide to increasing gender diversity and inclusion This book has been written by prominent members of BCSWomen drawing on their vast experience.
Nettie in Cyberland: introduce cyber security to your children by Wendy Goucher
This book takes Nettie, and her friend Webby on her first adventure in Cyberland where she finds not everything is cute and fluffy. Using the story of Nettie and Webby we introduce cybersecurity to young children and start the conversation about going online safely between the child and their adult reader. Relevant links are included at the end of the book to help parents and carers further their understanding of risk and protection on the Internet.....
... and mine: The Autonomous Enterprise – Powered by AI
The journey towards the autonomous enterprise has begun; there are already companies operating in a highly automated way and with artificial intelligence (AI) solutions offering compelling returns on investment. More organisations will be joining their ranks. With a workforce of machines that are augmented by humans, the autonomous enterprise will turn the current organisational model on its head. Corporate decision-makers will need to understand the opportunities and risks that the autonomous enterprise presents, to learn how best to navigate the shifting competitive landscape on their journey of change. This book is your guide to this innovation, presenting the concepts in real world contexts by covering the art of the possible today and providing glimpses into the future of business.